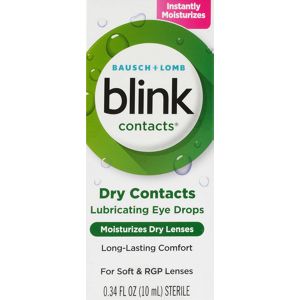 Blink Contacts Lubricant Eye Drops
For soft and RGP lenses. Sterile. Relief with every blink. Contents: Blink Contacts Lubricating Eye Drops is a sterile, buffered, isotonic, preserved solution. Moisturizes your eyes with hyaluronate, a naturally occurring substance found in your eyes. Hyaluronate forms a moisture cushion so eyes stay refreshed and comfortable. Fortified with beneficial electrolytes found in natural tears. With the gentle disappearing OcuPure preservative. Blinking is the eye's own natural way of replenishing the tear film. Use Blink Contacts eye drops to lubricate and rewet soft and rigid gas permeable (RGP) contact lenses as well as to cushion lenses prior to application. Product of Spain.
Product Type:

Eye Drops

Formulation:

Drops

Quantity:

0-5 OZ
This Aqueous Formulation Includes Purified Water, Sodium Hyaluronate, Sodium Chloride, Potassium Chloride, Calcium Chloride, Magnesium Chloride, Boric Acid and is Preserved With the OcuPure Preservative (Stabilized Oxychloro Complex 0.005%).
To Lubricate and Rewet Lenses: Apply 1 to 2 drops to each eye as needed, or as directed by your eye care professional. Blink several times. For Extra Comfort: Place 1 or 2 drops of Blink Contacts Lubricating Eye Drops on each side of each lens before application.
Do not use if neckband or bottle is broken or missing. If you are allergic to any ingredient in this product, do not use. Keep bottle tightly closed when not in use. For in-eye use only. Do not use in the lens case. Store at room temperature. Discard solution 45 days after opening. Keep out of the reach of children. See package insert for additional and important safety information.