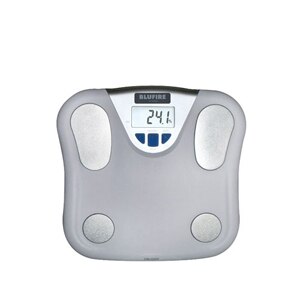 BluFire Body Fat Analyzer
The BluFire body fat monitor accurately measures your body fat percentage and weight in seconds. Simply step on the BioCheck sensors, and a safe, low-level electrical signal is passed through the body. Your body fat percentage is then displayed on the large-format LCD screen in increments of 0.1 percent. it is perfect for all weights, heights, and sizes, and simple enough for anyone to use in seconds. Use the enclosed charts to compare your results to healthy guidelines, and use built-in memory to instantly recognize two different users. The BluFire BA90 is accurate, affordable, and easy for anyone to use.
Features
Accurately measure both body fat percentage and weight simultaneously simply by stepping on the scale
Uses state-of-the-art bioelectrical impediance analysis to provide trusted, accurate results.
Personal data including male/female, age, and height can be stored in the personal data memory for 2 users.