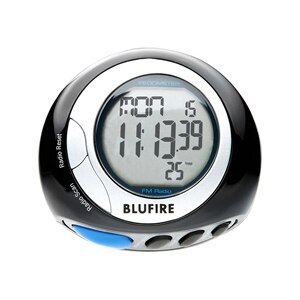 The Blufire PD20 is the ultimate fitness tool. Want to measure walking distance at work and running distance during a workout? Simple. The PD20 saves stride distance for both walking and running, has a seven day memory, and resets daily exercise information automatically. Want to set daily step goals or even set a walking or running pace? It's easy with the PD20. This innovative technology provides increased accuracy at varying angles, so it maintains its accuracy when carried in a pocket, bag, or purse, or clipped to a belt. Its 3D MotionCheck™ technology accurately measures steps, mileage, calories burned and speed. Compact and easy to use, the BluFire PD20 also has advanced functionality that makes it perfect for a wide variety of situations.
Features
Easily track total steps, mileage, calories and miles per hour
Internal memory stores step count, calories burned, distance traveled and % of goal, and also saves walking and running stride distances
New 3D motioncheck™ technology provides increased accuracy at more angles and speeds
Integrated FM radio is built-in and headphones are included - have a radio everywhere you go!