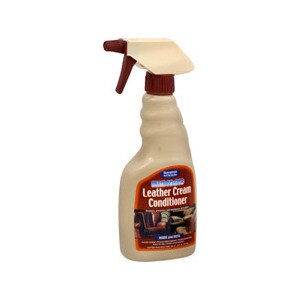 Blue Magic Leather Cream Conditioner
Guaranteed best you can buy. Restores, preserves, and moisturizes all leathers. Prevents cracking. Preserves natural suppleness. Prevents premature aging. Perfect for vinyl. Contains natural ingredients. Restores all leather & vinyl surfaces. This product contains a natural sun block to help prevent fading and cracking. Keeps leather and vinyl soft and supple. Great for: cars, trucks, furniture, saddlery, luggage, apparel, boots.
1. Clean surface (use Blue Magic Leather Cleaner). 2. After cleaning, spray Leather Conditioner onto surface to be treated. 3. Rub into surface immediately with smooth circular motion. 4. Allow to dry 15 - 30 minutes and lightly buff with clean soft cloth.
Caution: Keep out of reach of children. Avoid contact with eyes - rinse with water. Note: Do not use on suede. Always test for colorfastness on a small inconspicuous area to assure colorfast compatibility.