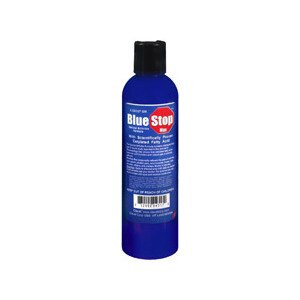 Blue Stop Max Special Arthritis Formula
This special arthritis formula contains cetylated fatty acid. A recent study reported in the Journal of Rheumatology has shown that cetylated fatty acids improves joint function and reduce pain in arthritis patients. BlueStop Max temporarily relieves the pain of arthritis, back spasm, athletic pain, sore muscles, knees, hips, shoulder, strains and cramps. Works in minutes.
Whole Leaf Aloe Vera; MSM; Mineral Oil; Coconut Oil; Glycerin; Peach Oil; Natural Menthol; EMU Oil; Kokum Butter; Triethanolamine; Soybean Oil; Witch Hazel; Propylene Glycol; Carbomer; Tocopheryl Acetate (Vitamin E); Diazolidinyl Urea; Methylparaben; Propylparaben; Cetyl Myristoleate; Cetyl Palmitate; Tea Tree Oil; Retinol; Borax; EDTA; Glucosamine; FD&C Blue
Apply to affected area 3-4x daily as needed.
If pain persists, see your doctor. For external use only. Avoid contact with eyes and mucous membranes. KEEP OUT OF REACH OF CHILDREN.