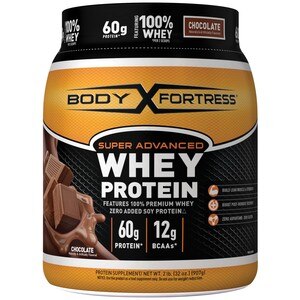 Body Fortress Whey Protein Powder Chocolate
Protein Supplement. Naturally & artificially flavored. 52 g premium protein per 2 scoops. Scientifically designed with: premium whey protein; over 8 grams of BCAAs (per 2 scoops); crystalline taurine; lean mass activators; glutamine. Notice: Use this product as a food supplement only. Do not use for weight reduction. Your body. Your fortress. Please note: crystalline taurine will appear as small crystals within the powder. Body Fortress Super Advanced Whey Protein is aspartame free. Body Fortress Super Advanced Whey Protein delivers a powerful blend of premium proteins and the perfect combination of BCAAs athletes need to support lean muscle mass and maximize their training. Body Fortress Super Advanced Whey Protein features a Super Recovery Blend to further enhance the benefits of our premium Whey Protein Blend. Each scoop provides high quality creatine in combination with the important amino acids crystalline taurine, glutamine, leucine, isoleucine and valine. What makes Body Fortress Super Advanced Whey Protein worth it: Body Fortress Super Advanced Whey Protein provides gold standard, cross-flow whey protein sources including microfiltered whey protein isolate and ultrafiltered whey protein concentrate. State of the art manufacturing processes are used to retain the active whey protein peptides and microfractions that help deliver whey's superior benefits. Premium whey proteins for easy mixing and complete dispersion in liquid. Quick absorbing blend to speed amino acid delivery to muscles immediately after workouts (to help stimulate muscle protein synthesis and recovery). The combination of potent ingredients within the Super Recovery Blend is important for athletes since it allows for faster recovery during high-intensity workouts. Not only with the Super Recovery Blend help recharge muscle energy stores, but it may help decrease fatigue during exercise as well so you can keep training hard. Contains naturally occurring branched chain amino acids. 2 scoops contain over 8 grams of the following branched chain amino acids: which typically provides: 2.30 g isoleucine; 3.84 g leucine; 2.18 g valine. Whey is the preferred protein source in sports and bodybuilding nutrition because it contains superior quality branched chain amino acids - made up of leucine, isoleucine and valine - which are important for the maintenance of muscle tissue. Unlike some other incomplete protein sources, Body Fortress Super Advanced Whey Protein contains all of the essential amino acids required for supporting lean muscle and exercise recovery. Use in conjunction with an intense daily exercise program and a balanced diet including an adequate caloric intake. L-tryptophan is naturally occurring, not added. (These statements have not been evaluated by the Food and Drug Administration. This product is not intended to diagnose, treat, cure or prevent any disease.)
Super Whey Protein Blend (Whey Protein Concentrate, Whey Protein Isolate), Super Recovery Blend (Creatine Monohydrate, Taurine, L-Glutamine, Leucine, Isoleucine, Valine), Cocoa (Processed with Alkali), Natural and Artificial Flavors, Cellulose Gum, Soy Lecithin, Acesulfame Potassium, Sunflower Lecithin, Sucralose.
For adults, add one (1) scoop (34 g) to 6-8 ounces of water or your favorite beverage daily. Serious athletes and bodybuilders (over 125 pounds) should consume 1-2 scoops immediately after exercise. Blender - simple: cover and blend for 20-30 seconds (for mass gaining: add higher calorie foods such as peanut butter, 1-2% milk, and fruit juices. For dieters: add lower calorie foods such as skim milk or just use water). Shaker - simpler: cover and shake for 25-30 seconds. Glass & spoon - simplest: stir for 20-30 seconds or until completely blended.
Contains milk and soy ingredients. Not intended for use by pregnant or nursing women. If you are taking any medications, consult your doctor before use. Avoid this product if you have kidney disease. Discontinue use and consult your doctor if any adverse reactions occur. Not intended for use by persons under the age of 18. Keep out of the reach of children. Store at room temperature, tightly closed and avoid excessive heat. For your protection, do not use if seal under cap is broken or missing.