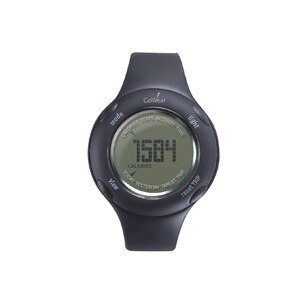 You May Also Like
Size: 1 EA

25% off Clearance
$149.99
$199.99
Goodbye, Guesswork. Hello, Weight Loss


Weight loss attempts can fail not because you lack willpower, but because you lack the right info. You should know calories in, calories out and the quality of your sleep. BodyMedia FIT collects this data throughout the day and delivers it to you in an easy-to-understand format.
Product Features:
Instant Up-to-the-Minute Motivation: Have the ability to see your calories burned, steps taken, and activity as it happens. You'll be motivated to take the stairs, park the car in the furthest spot, or walk your dog an extra block to meet your daily goals!
Instant Access to Data: The BodyMedia FIT Display gives you convenient access to data from your BodyMedia FIT Armband.
Easily View Results: Includes different modes that allow you to view your results for today and yesterday, plus a trip-o-meter so you can measure your activity from a given start point.
Lets You Know When You Reach Your Daily Goals: Receive alerts when you've met your daily goals.
Easy to Wear: Display can be easily clipped to your shirt, pants, or bag.
Important Note: The Display will only work when synced with an Armband. It is not a substitute for the Armband. No data will be displayed if you are not wearing an Armband.
Simply wear the GoWear fit armband during the course of your day, then log onto your personalized GoWear fit online activity manager. You'll get accurate, easy-to-digest information about the calories you've burned, plus a calorie consumption calculator and tips for how to best reach your fitness and lifestyle goals. GoWear fit also measures sleep duration and efficiency so that you can begin to understand the influence your bedtime has on your overall health. Features:Track calories, steps, physical activity levels, and sleep duration and efficiency.Helps you set healthy weight loss goals, and reach them.Easy-to-use online activity manager helps you monitor your progress over time (Subscription to online activity manager REQUIRED for use).Clinically tested and proven to be accurate (British Journal of Sports Medicine, 2008).Optional display gives you minute-to-minute updates.