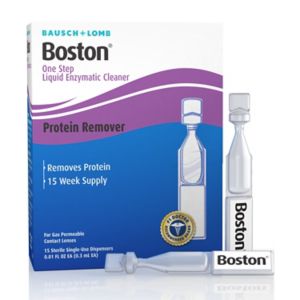 Boston One Step Liquid Enzymatic Cleaner
For rigid gas permeable contact lenses. Removes protein. 12 Week Supply. Sterile. Boston One Step Liquid Enzymatic Cleaner: The easiest way to remove protein deposits weekly from your RGP lenses. Convenient liquid works together with the disinfecting step, right in your lens case eliminating the need for tablets and vials. Comes in the unique SmartDrop dispenser for easy and accurate dispensing. This package contains the equivalent of twenty four (24) Enzymatic Tablets (12 week supply).
A Sterile, Aqueous, Solution Containing Proteolytic Enzyme (Subtilisin) as the Active Ingredient, and Glycerol. Preservative-free.
Discard solution ninety (90) days after opening. Store this solution at room temperature. Avoid extreme heat. Refer to expiration date on bottom of carton prior to purchase. Carefully observe directions, warnings and precautions on inner carton.
Not for use directly in the eye. Thoroughly rub and rinse lenses prior to insertion. If a problem arises, contact your eye care professional. Contraindications: Do not use this solution if you are allergic to any ingredient in this product. Not for use with soft (hydrophilic) contact lenses. Tamper-Evident Seal: Do not use if imprinted neckband on bottle is missing or torn.