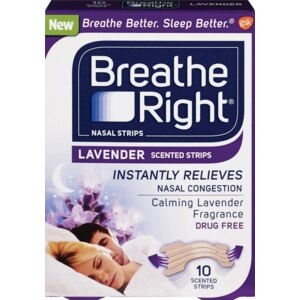 Breathe Right Advanced Nasal Strips
4 point technology. Opens your nose to relieve nasal congestion. Drug free. Breathe better. Sleep better. One size designed for adult noses. Advanced technology. Specially designed to work with the anatomy of your nose. Works on 4 key touch points to open your nose more completely (compared to Breathe Right Nasal Strips Tan Sm/Med). The only strip with 3M adhesive to hold strip comfortably in place. Use every night if you suffer from: nasal congestion due to allergies, colds or deviated septum; snoring.
Ship & Save:

Ship & Save Eligible
Please read enclosed instructions before use for: complete caution statements; proper application and removal.
Packaging of this product contains natural rubber latex which may cause allergic reactions.