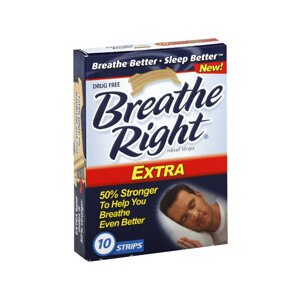 Breathe Right Extra Nasal Strips
Breathe better, sleep better. Drug free. 50% stronger to help you breathe even better. Extra band makes it 50% stronger. One size designed for adult noses. It's simple. Flexible spring-like bands gently lift nasal passages open to improve airflow. Special adhesive holds strips comfortably in place. Built with an extra spring-like band to help you breathe even better. Try one if you suffer from: snoring, nasal congestion due to allergies, colds, or deviated septum.
For best results, use nightly. Please read enclosed instruction sheet before use for: complete caution statements; proper application and removal.
Packaging of this product contains natural rubber latex which may cause allergic reactions.