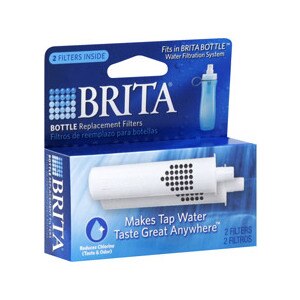 Brita Bottle Replacement Filters
Model Number: BB02. Britta bottle water filtration system. Makes tap water taste great, anywhere. Reduces chlorine (taste & odor). One filter can replace 300 plastic bottles (standard 16.9 oz bottles). The Brita bottle replacement filter (model No. BB02) has been tested and certified by NSF International against NSF/ANSI standard 42 in the Brita bottle (model No. BB01) for the reduction of chlorine (taste and odor) and particulate reduction (class VI). Independently certified - NSF. The Brita bottle filter is not intended to purify water. Do not use with water that is microbiologically unsafe or of unknown quality without adequate disinfection before or after the system. Individuals requiring water of special microbiological purity should follow the advice of their doctor or local health officials regarding the use and consumption of their tap water and Brita filtered water. Substances reduced by this water treatment device are not necessarily in all users' water. Consumer Assistance: To stay on top of important water news call 1-800-24-BRITA. Printed in Mexico. Made in Mexico.
1. Unscrew cap and insert filter. 2. Fill bottle with tap water. 3. Squeeze one full bottle of water through filter before use to remove black carbon dust. 4. Refill bottle and enjoy! Replace filter every 256 refills, 2 months or 40 gallons (filter replacement is essential for product to perform as represented.) (1 bottle = 20 oz).