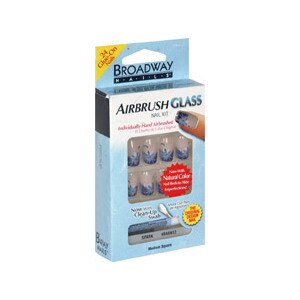 Broadway Nails Airbrush Design Medium Length Assorted Designs
Kit Contains: 24 Individually Hand Airbrushed Nails; Pink Gel Glue for perfect application 2 gram (0.7 fl oz); Push pin; Manicure stick; Clean-up swab. 24 Glue-on nails. Individually hand airbrushed. With natural color nail beds to hide imperfections! With clean-up swab. The original design nail. Nails - China. Pink Gel Glue - U.S.A. Assembled in U.S.A. of US and foreign components.
Nails: ABS Plastic. Pink Gel Glue: Ethyl Cyanoacrylate, Polymethyl Methacrylate.
Apply Glue. Apply Nail. Clean-Up. Preparing Your Nails: Clean nails of any polish or oil. Trim and file the entire free edge of your nails and push back cuticles with manicure stick. How To Apply Broadway Nails: 1. Select the correct size nails for each finger. If needed, file sides for correct fit. 2. Holding pink gel tube upright, gently pierce a hole in the tip using the red push pin. 3. Holding artificial nail by the numbered edge, apply a thin coat of glue onto the remaining back area where it will come in contact with your natural nail. Be sure to apply enough glue for proper adhesion. 4. Apply a thin layer of glue onto natural nail. 5. Using the cuticle as a pivot point, slowly lower nail onto natural nail - hold firmly until set. 6. Use paper towel to wipe any excess glue from skin before it dries. 7. Apply top coat for added shine and design protection including free edge of artificial nail. 8. When finished, wipe off excess glue from around nozzle tip and replace cap. Store glue in upright position away from heat and direct sunlight. Note: Wear beyond 10 days is not recommended. How to Remove Broadway Nails: 1. Do not force or pull nails off. 2. Trim off as much artificial nail as possible and file top of artificial nail surface to break through protective top coat. 3. For quick, easy removal use artificial nail remover kit, or soak nails in acetone-based nail polish remover until soft. 4. Wipe off softened plastic and glue. Repeat process as necessary.
Eye irritant. Bonds skin and eyes in seconds. If skin bonding occurs, do not pull; peel apart gently using acetone or polish remover. If eye contact occurs, flush immediately with water. See Physician at once. Avoid contact with fabrics as skin burns may occur. Do not use on nails that are infected, damaged, thin or weak. Keep out of reach of children.