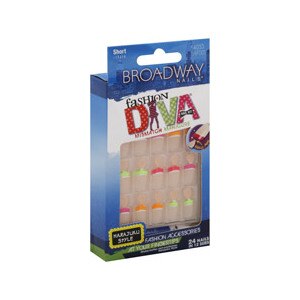 Broadway Nails Fashion Diva Nails
Kit Contains: 24 decorated nails with self tabs in 12 sizes, pink gel glue (0.07 fl oz), manicure stick. 24 nails in 12 sizes. Mismatch manicure. Easy app. Fashion accessories at your fingertips. Globe-trotter, non-conformer, Harajuku style. Glue-on 7 day wear. Don't conform. Mix it up. With pink gel glue for stronger, longer wear. Hydroquinone-free. Nails: Made in China. Pink Gel Glue: Made in USA/Japan/Thailand. Assembled in China.
Nails: ABS Plastic. Pink Gel Glue: Ethyl Cyanoacrylate, Polymethyl Methacrylate, CI 15850 (Red 7).
Prepare Your Nails: Clean nails with acetone-based polish remover. Select the correct size nails for each finger. If needed, file sides for best fit. How to Apply: 1. Apply glue to nail. 2. Apply glue to natural nail. 3. Starting at cuticle, press on & hold for 5 seconds. 4. Remove Self-Tab - bend down & twist. Note: Wear beyond 7 days is not recommended. How to Remove: 1. Do not force or pull nails off. 2. Trim and file surface to break through protective topcoat. 3. Soak nails in acetone based polish remover until soft. Wipe off softened plastic and glue. Repeat as necessary.
Cyanoacrylate. Avoid contact with eyes and skin, can bond in seconds. Do not breathe vapors. Can irritate eyes, respiratory system, and skin. If skin bonding occurs, do not pull; peel apart gently by soaking in acetone or polish remover. If eye contact occurs, flush immediately with water and seek medical advice at once. Avoid contact with clothing as bums may occur. Do not use on nails that are infected, damaged, thin or weak. Keep out of reach of children. Use entire glue contents upon opening. The container is not child resistant once opened.