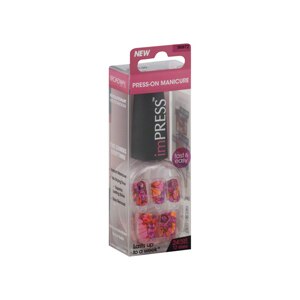 Broadway Nails Impress Press-On Manicure Lovestruck BIPD140
Velvet Rope 170. Fast & easy. Lasts up to a week (When applied properly). 24 nail covers 12 sizes. Revolutionary nail technology. This changes everything! Instant manicure. No drying time. Superior, lasting shine. Easy removal. Tab aligns with cuticle. Easy to apply. Peel off. Press on. Salon results. So easy to apply - peel off, press firmly down middle, smooth down each side. Made in China.
Nails: ABS Plastic, Acrylates Copolymer; Prep Pad: Isopropyl Alcohol, Water (Aqua).
Find correct size. Tab is at cuticle. Peel off. Press on firmly. Apply pressure. Apply in Minutes: Find the correct size for each nail (if needed use smaller sizes for best results). Lay out 10 mails in finger order. Wash your hands with soap, dry thoroughly & use enclosed prep pad. For best adhesion; press firmly, down the middle then down each side of nail. Apply thumb nails last. Minimized contact with water for 30 minutes. Remove in Seconds: Gently peel off from sides or apply polish remover around edges, wait 1 minute, peel off.
Keep out of reach of children.