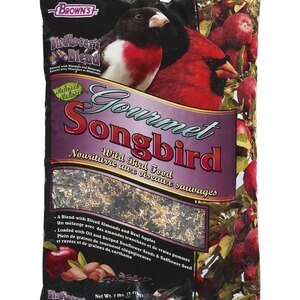 Brown's Gourmet Songbird Birdlover's Blend
Bringing Nature to your backyard. Preferred by Bird Watching Enthusiasts Everywhere! An all natural, gourmet blend; 60% Oil & striped sunflower seeds & safflower seeds. We created Bird Lover's Blend for the experienced hobbyist, as well as the novice. This special blend is designed to attract the most desired birds in all seasons and regions. The experience of five generations has helped the Brown's family to develop this product. We know it will bring the beauty of colorful songbirds into your backyard habitat and make the bird feeding experience fun and rewarding for the whole family. Gourmet Songbird is blended with four types of oil seeds larger songbirds prefer. Plus we've added almond slices and apple dices that add needed fats for energy that taste great too! Millet and fine cracked corn provide carbohydrates that help fulfill their special nutritional needs. There are no fillers in this blend, just everything they love to eat. Nature's Helping Hand! This advanced blend provides available sources of proteins, fats, carbohydrates, vitamins, minerals, essential amino acids and electrolytes needed for healthy growth and reproduction. Our super clean, virtually dust-free product is simply a better food source for your outdoor birds. Barrier Bag for locked in freshness. Packed fresh. Year-Round High Energy! This is a power packed blend because of the high oil and fat content in our black oil sunflower, stripe sunflower, sunflower hearts and chips and safflower seeds. Just what birds crave! Plus Almonds and Apples! We've added sliced almonds, high in fat and oils for energy, plus delicious fiber rich apple dices. An extra treat to entice even the most timid songbirds. Natural Super Cleaned Ingredients! We super clean all of our products to ensure the healthiest blend for your birds. Our all natural ingredients are what birds love most. Attracts the Most Species! Our blend appeals to most all birds, because we've selected the types of seeds, fruits, nuts and grains they crave. We believe you'll agree it's the best blend for all seasons, climates, and regions. Use in most any feeder, however larger songbirds prefer platform style feeders. Made in U.S.A.
Oil and Stripe Sunflower Seed, Millet, Cracked Corn, Safflower Seed, Almond Pieces, Sunflower Kernels, Dehydrated Apple Dices, Vitamin/Mineral Supplement (Contains Granite Grit, Calcite Chips, Charcoal, Niacin, Dicalcium Phosphate, Vitamin A, E, D, B12, Double Sulfate of Potassium and Magnesium, Biotin, Monocalcium Phosphate, Riboflavin, Zinc Oxide, d-Pantothenic Acid, Manganous Oxide, Sodium Selenite, Choline Chloride).
Helpful Hints for Successful Bird Feeding! Water: Provide a constant source of water near your feeding area and the birds will flock to it. Year-Round Food: Birds are attracted by a reliable source of food, so keep your feeders full and they'll return faithfully. Shelter: Place feeders near trees and shrubs because they provide a safe haven. A sunny, windless, southeastern exposure is the preferred feeding location. Variety of Feeders: The style of feeder will affect which types of birds are attracted to it. Cardinals prefer platform feeders, finches prefer tube feeders. Food Makes the Difference: Each bird species has its food preference, so providing it will attract them. Keep it Clean: Regular cleaning of your feeders and watering areas will benefit the long-term health of the birds.