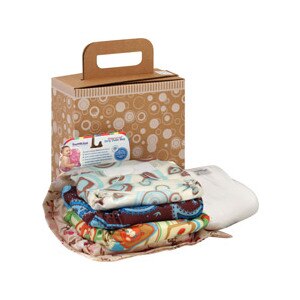 Bumkins Girls Assorted 3-Pack Cover Bundle Kit Small (6-12 lbs)
Modern cloth diapering is easy when you use Bumkins All-In-One cloth diapers and inserts. They give you the convenience of disposables with all the comfort of cloth! The printed outer shell of the All-in-One diaper is Bumkins exclusive, ultra durable and silky soft waterproof fabric. The interior is six layers of 100% pure cotton flannel. Generous sizing and comfortable fit. Features sturdy Velcro closures. Machine washable. PVC, Phthalate, BPA & Vinyl Free. Available in Small (6-12 lbs), Medium (12-22 lbs) and Large (22-23 lbs). Each diaper comes with an additional microfiber Diaper Insert, designed to give maximum coverage and added absorbency within the diapers. Bundle also includes one waterproof Dirty Duds Bag for storing dirty diapers. Prints may vary.
Inside Layers: Cotton (100%). Outer Shell: Polyester (100%).
How to Use All-in-One Diapers: Wash before first use, following instructions on back. Put clean diaper under baby on changing table. Bring front up around baby's tummy and secure velcro around waist. Dealing with Dirty Diapers: Diapers that are wet (from urine) need not to be rinsed. Diapers that are soiled should be rinsed in toilet. Use covered diaper pail or hamper to store dirty diapers until laundering. Wash diapers every day or two. Machine wash warm, tumble dry low heat. No chlorine bleach.