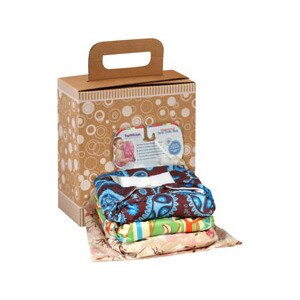 Bumkins Girls Assorted 3-Pack Cover Bundle Kit Small (9-16 lbs)
Bumkins Diaper Covers provide unmatched waterproof protection for any type of diaper. These award-winning covers are lightweight, durable and virtually leak-proof. The unique air vent in back keeps diaper area cool while extra leg gussets prevent leakage. Velcro closures provide a quick and adjustable fit. Stylish leak protection in Bumkins bright and playful prints! Machine or hand wash, hang dry. PVC and Vinyl Free, Phthalate Free, and BPA Free. Available in sizes: Small (9-16 lbs), Medium (15-23 lbs) and Large (22-28 lbs). Bundle includes one waterproof Dirty Duds Bag for storing dirty covers. Prints may vary.
How to Use Bumkins Diaper Covers: 1. Open cover. 2. Fold cloth diaper appropriately to fit into cover. 3. Tuck front of diaper into leak shield pocket. Ensure entire diaper is fit inside cover. 4. Fasten diaper cover around baby, using velcro to adjust size. Hints: Change diapers often to prevent rash. Use two diapers or diaper inserts for extra absorbency. Washing: Hand or machine wash warm with mild detergent. Fasten velcro tabs when machine washing. Hang dry. No chlorine bleach.