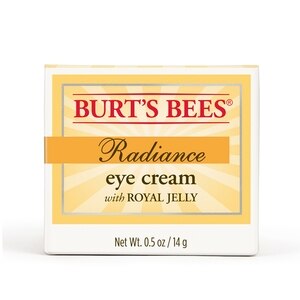 Burt's Bees Radiance Eye Creme
99.02% Natural. Radiance Eye Creme: This wonderfully natural eye creme with Royal Jelly contains vitamins and 8 essential amino acids to soften skin, increase radiance, firmness, and minimize the appearance of fine lines around the eyes. The Story of Royal Jelly: Royal Jelly is the most powerful nutrient found in nature. Fed to the queen bee, it is the reason she lives 40 times longer and is 50% bigger than worker bees. In Burt's Bees Radiance Eye Creme, it's the reason you'll get naturally radiant, younger looking skin. Paraben free. Phthalate free. Not tested on animals.
Water, Sesame Seed Oil, Vegetable Glycerin, Castor Oil, Stearic Acid (Vegetable Fat), Kaolin, Glucose (Sugar), Royal Jelly Powder, Comfrey Leaf Extract, Cucumber Extract, Eyebright Extract, Chamomile Extract, Rosehips Extract, Witch Hazel Extract, Lecithin, Mica, Sodium Borate (Natural Borax), Xanthan Gum (Natural Thickener), Orange Oil, Lemon Oil, Ylang Ylang Oil, Sucrose Stearate & Distearate (Sugar Emulsifiers), Fragrance, Glucose Oxidase & Lactoperoxidase (Natural Preservative).
Use in the morning or evening. Place small dots around eye area and gently smooth into skin.