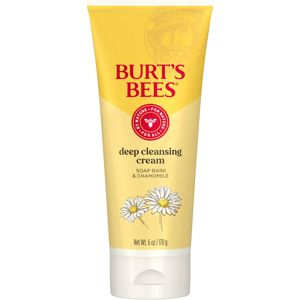 Burt's Bees Soap Bark & Chamomile Deep Cleansing Creme
97% Natural. This natural, rich cream cleanser is all bark and no bite. Natural Soap Bark deeply penetrates and cleanses, removing dirt, makeup, and excess oil for clean, healthy skin. Chamomile and Aloe gently soothe and soften skin. Rosemary and Echinacea extracts reduce inflammation, tighten pores, and increase cell renewal. You'll get a deep clean for naturally soft, fresh, healthy skin. Won't clog pores. pH balanced. Sodium lauryl/laureth sulfate free. Paraben free. Not tested on animals.
Water, Sunflower Oil, Stearic Acid (Vegetable Fat, Vegetable Glycerin, Emulsifying Wax, Coconut Oil, Sodium Borate (Natural Borax), Cetyl Alcohol, Silica, Glucose (Sugar with Hazel Extract, Aloe Barbadensis Leaf Extract, Chamomile Extract, Echinacea (Coneflower) Extract, Quillaja (Soap Bark) Extract, Cocoa Butter, Rosemary Leaf Extract, Tocopherol (Vitamin E), Lemon Oil, Xanthan Gum (Natural Thickener), Sucrose Stearate (Sugar Emulsifier), Menthol, Glucose Oxidase & Lactoperoxidase (Natural Preservative).
Wet face and apply cleanser with fingertips or a wet washcloth, massaging gently, avoiding contact with the eye area. Rinse thoroughly. For best results, follow with your favorite moisturizer.