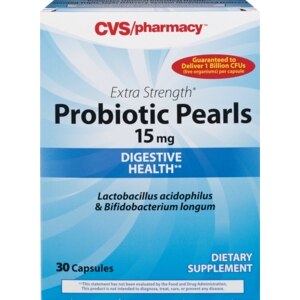 CVS Acidophilus Capsules Extra Strength
Promotes optimal intestinal health.* Patented triple-layer delivery system (Guaranteed Delivery). No refrigeration needed. Layer 1: The outer layer protects the acidophilus from heat and moisture. This layer dissolves in the stomach. Layer 2: The unique middle layer carries the acidophilus through the acidic environment of the stomach. Layer 3: The inner layer stabilizes the acidophilus and is designed to release the microflora as it reaches the small and large intestine.
Health Goals:

Probiotics & Digestive Health

Ship & Save:

Ship & Save Eligible
Per Capsule: Probiotic Proprietary Blend 16 mg [(1 Billion CFUs) (Lactobacillus Acidophilus and Bifidobacterium Longum]; Unhydrogenated Coconut Oil; Gelatin; Glycerin; Lecithin (Soya); Lemon Pectin; Lactose; Yeast; Skim Milk Powder
Adults, take one capsule daily. Do not chew or crush capsules. Do not take within two hours of taking antibiotics. May refrigerate if desired.
Keep out of reach of children. If you are pregnant or nursing a baby, ask a doctor before using this product. *This product is not intended to diagnose, treat, cure, or prevent any disease.