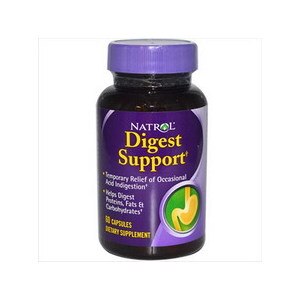 Natrol Digest Support Capsules
Dietary Supplement. Temporary relief of occasional acid indigestion. Helps digest proteins, fats & carbohydrates. Natrol Digest Support promotes health and wellness by assisting your own digestive system in thoroughly and effectively breaking down food to increase the availability of nutrients to your body. No milk, egg, soy, artificial colors or flavors, added sugar, or preservatives. (These statements have not been evaluated by the Food and Drug Administration. This product is not intended to diagnose, treat, cure or prevent any disease.)
Digest Support Enzyme Blend: Protease I, Protease II, Amylase (Contains Wheat), Cellulase, Lipase, Lactase, Sucrase, Maltase, HemiSeb Proprietary Enzyme Complex (Glucanase, Xylanase, Pectinase, Phytase). Other Ingredients: Gelatin, Maltodextrin, Water, Magnesium Stearate, Silica.
Take 2 capsules, three times daily, with a meal. May be taken up to 30 minutes before a meal. Store in a cool, dry place.
Consult your healthcare professional prior to use if you have or suspect a medical condition, are taking prescription drugs, or are pregnant or lactating. People with allergies to gluten or wheat should consult their healthcare professional before taking this product. Keep out of reach of children.