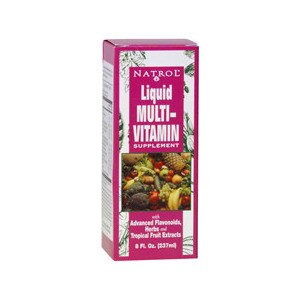 Natrol Multi-Vitamin/Mineral Liquid
This vitamin features: high potency levels of Beta Carotene, Vitamin C, Vitamin C, Vitamin E and B-complex. Advanced Flavanoids including G.P. Flavanoids Complex, Rutin, Quercitin & Hesperidin. Tropical fruit extracts from acerola, pineapple, cashew fruit and passion fruit. Naturally sweetened with brown rice syrup and honey.
Herbal Extracts: Nettles, Kelp, Parsley, Ginger, Oats, Alfalfa, Hops, Peppermint, Rose Hips, Spinach & Echinacea. Tropical Fruit Extracts: Acerola, Pineapple, Cashew Fruit, Passion Fruit.
Shake well before each use. Take 2 teaspoons per day.