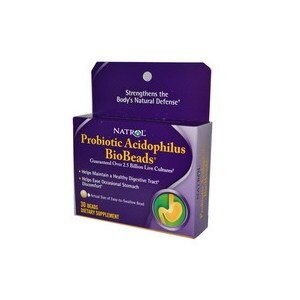 Natrol Probiotic Acidophilus BioBeads
Dietary Supplement. Guaranteed over 2.5 billion live cultures (at time of manufacture). Helps maintain a healthy digestive tract. Helps ease occasional stomach discomfort. Easy-to-swallow bead. Strengthens the body's natural defense. Strengthens the body's natural immunity. Superior, triple-shell protection. Natrol Probiotic Acidophilus BioBeads are uniquely protected by an advanced triple shell that ensures viability through all three biophases: Biophase 1: Targeted-release technology helps guarantee BioBeads potency for 18 months on the shelf, and protects viable microflora all the way to ingestion. Biophase 2: Bead passes safely through the acidic stomach environment unharmed. Biophase 3: Inner layer gently breaks down, releasing proprietary blend of probiotics that helps support digestive health and immunity. No refrigeration needed. No yeast, wheat, corn, milk, egg, glutens, artificial colors or flavors, added sugar or preservatives. (These statements have not been evaluated by the Food and Drug Administration. This product is not intended to diagnose, treat, cure or prevent any disease.) Made in Japan.
Proprietary Probiotic Blend (2.5 Billion Live Cultures at Time of Manufacture): Bifidobacterium Longum, Lactobacillus Acidophilus, Lactobacillus Rhamnosus, Bifidobacterium Bifidum. Other Ingredients: Coconut and Palm Kernel Oils, Gelatin, Glycerin, Lecithin (Soy), Lemon Pectin.
Consult your healthcare professional prior to use if you have or suspect a medical condition, are taking prescription drugs, or are pregnant or lactating. People with allergies to soy should consult their healthcare professional before taking this product. Store in a cool, dry place. Keep out of reach of children.