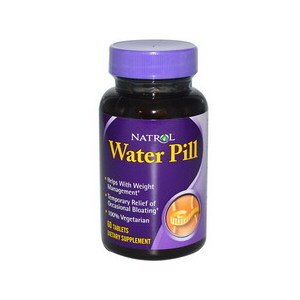 Natrol Water Pill Tablets
Provides a balanced approach to maintaining healthy body fluid levels. By working with the body's systems our Water Pill, along with a healthy diet and exercise program, can help you feel your best, naturally.
Per 2 Tablets: Vitamin B-6 (as Pyridoxine HCI) 150 mg; Calcium (as Calcium Carbonate) 260 mg; Potassium (as Potassium Gluconate) 99 mg; Buchu Extract (Leaf) 4:1 100 mg; Parsley Extract (Leaf) 4:1 100 mg; Uva Ursi Extract (Leaf) 100 mg; Juniper Extract (Berry) 4:1 100 mg; Vegetable Glycerides; Stearic Acid; Cellulose Gum; Silica; Magnesium Stearate; Methylcellulose; Glycerine
Take 2 tablets daily with a meal or juice.
This product is intended for adults 18 years of age and older only. It is not intended for long-term use. Consult a health care professional prior to use if you have or suspect a medical condition, are pregnant or lactating, and before beginning any weight loss or exercise program. KEEP OUT OF REACH OF CHILDREN. This product is not intended to diagnose, treat, cure or prevent disease.