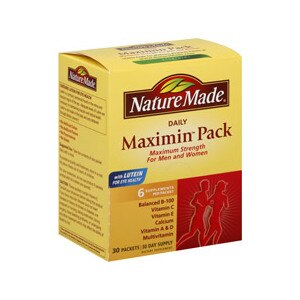 Nature Made Maximin Vitamin Pack
Maximum Strength Vitamin Supplement for Men and Women. 30 Day supply. Balanced B-100; Vitamin C; Vitamin E; Calcium; Vitamin A & D; Multivitamin. Recommended by pharmacists. The Maximin daily supplement program provides the high potency formulas of key vitamins and minerals that your active lifestyle demands. Men and women who lead vigorous and demanding schedules or who participate in high levels of physical activity may have an increased need for vitamins and minerals. Maximin provides convenient, take-anywhere packets designed to help you stay at peak performance all day. Like all Nature Made products, it contains no artificial colors, flavors or preservatives. Balanced B-100 Timed Release B Vitamins Help Convert Food Into Energy: B Vitamins are also necessary for normal functioning of the nervous system. Our time release formula extends the vitamin absorption by the body. Vitamin C 1000 mg with Rose Hips Antioxidant - Helps Boost The Immune System: Vitamin C helps neutralize free radicals and helps iron get absorbed in the body. Vitamin C naturally occurs in Rose Hips. Vitamin E 1000 IU Antioxidant - Helps Maintain A Healthy Heart: Vitamin E also helps boost the immune system. It helps maintain red blood cells and muscle tissues such as cardiac and skeletal muscles. Calcium 500 mg Helps Build Strong Bones and May Help Prevent Osteoporosis: Adequate Calcium in a healthful diet is important for teen, young adults and post-menopausal women. Vitamin A and Vitamin D Assists Nerve and Eye Function: Beta Carotene, stores in the body and converted to Vitamin A as needed, also participates in tooth and bone formation. Vitamin D regulates Calcium and Phosphorus levels in the body which help maintain healthy bones. Multivitamin/Multimineral High Potency Formula: Multivitamin/Multimineral tablet provides daily nutritional support from 26 essential vitamins and minerals including Antioxidants, Iron and Zinc. No artificial colors. No artificial flavors. No preservatives. No chemical solvents, yeast or gluten. Maximin Pack tablets and softgels are made to Nature Made's guaranteed purity and potency standards. (These statements have not been evaluated by the Food and Drug Administration. This product is not intended to diagnose, treat, cure or prevent any disease.)
Ascorbic Acid, Tribasic Calcium Phosphate, Dl-Alpha Tocopheryl Acetate, Dibasic Calcium Phosphate, Calcium Carbonate, Cellulose Gel, D-Calcium Pantothenate, Pyridoxine Hydrochloride, Niacinamide, Thiamin Mononitrate, Magnesium Oxide, Riboflavin, Gelatin, Hydroxypropyl Methylcellulose, Croscarmellose Sodium, Zinc Gluconate, Stearic Acid, Glycerin, Maltodextrin, Rose Hips, Magnesium Stearate, D-Alpha Tocopheryl Succinate, Ferrous Fumarate, Water, Corn Starch, Potassium Chloride, Silicon Dioxide, Lemon Bioflavonoid Complex, Manganese Sulfate, Copper Sulfate, Polyethylene Glycol, Soy Polysaccharides, Vitamin A Palmitate, Beta Carotene, Partially Hydrogenated Cottonseed and Soybean Oils, Acerola, Folic Acid, Carnauba Wax, Chromium Chloride, Cyanocobalamin, Vitamin D, Sodium Selenate, Biotin, Potassium Iodide, Corn Oil, Sodium Molybdate.
Suggested Use: Take the contents of one packet daily with a meal. To preserve quality and freshness, store in a cool, dry place.
Accidental overdose of iron-containing products is a leading cause of fatal poisoning in children under 6. Keep this product out of reach of children. In case of accidental overdose, call a doctor or Poison Control Center immediately. For your protection, do not use product if packets printed with lot number are opened.