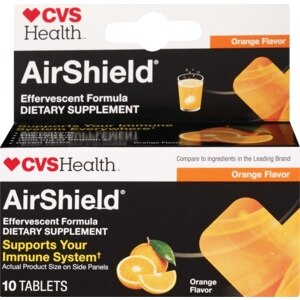 CVS Airshield Effervescent Tablets Orange Flavor
Supports your immune system.* Antioxidants, electrolytes, amino acids, 1000 mg of Vitamin C, seven herbal extracts. For use in: schools, airplanes, offices, health clubs, theaters, restaurants.
Per Tablet: Calories 5; Vitamin A (as Vitamin A Palmitate) 5000 IU; Vitamin C (as Ascorbic Acid) 1000 mg; Vitamin E (as d-Alpha Tocopheryl Acetate) 30 IU; Riboflavin (Vitamin B2) 2.8 mg; Magnesium (as Magnesium Sulfate) 40 mg; Zinc (as Zinc Sulfate) 8 mg; Selenium (as Selenium Amino Acid Chelate) 15 mcg; Manganese (as Manganese Gluconate) 3 mg; Sodium 275 mg; Potassium (as Potassium Bicarbonate) 75 mg; Amino Acid Blend 50 mg (L-Lysine [as Monohydrochloride]; L-Glutamine); Herbal Extract Proprietary Blend 350 mg (Arabinogalactan Extract; Lonicera [Flower] Extract; Forsythia [Fruit] Extract; Schizonepeta [Whole Herb] Extract; Ginger [Root] Extract; Isatis [Root] Extract; Echinacea Angustifolia [Root] Powder); Citric Acid; Sodium Bicarbonate; Sorbitol; Natural Orange Flavor; Acesulfame Potassium; Canola Oil; Sucralose
Drop one effervescent tablet in 4 to 6 ounces of water; let fully dissolve (about 1 minute) and enjoy. Repeat every 3 hours up to 4 times a day. For children 2 to 12, adults please dispense one half tablet daily. May be used in hot or cold water.
Before taking this product please consult with your healthcare professional if you are pregnant, nursing or if you have any medical conditions or are taking any medicines. Dietary supplements can affect the way medicines work. If you are given a prescription for medicine, always tell your healthcare professional what dietary supplements you are taking. Keep out of the reach of children. *This product is not intended to diagnose, treat, cure or prevent any disease.