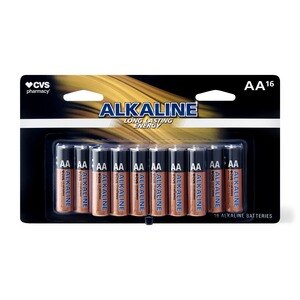 CVS Alkaline Batteries AA 16-Pack
Replaces all 'AA' size batteries. 1.5 volt battery. CVS alkaline batteries can last up to 5 times longer than regular carbon zinc batteries. Guaranteed Long Life - Even after 7 years in storage, battery retains up to 80% of power. Date Coded Package - So you know your batteries are fresh.
May explode or leak, and cause burn injury, if recharged, disposed of in fire, mixed with a different battery type, inserted backwards or disassembled. Replace all used batteries at the same time. Do not carry batteries loose in your pocket or purse.