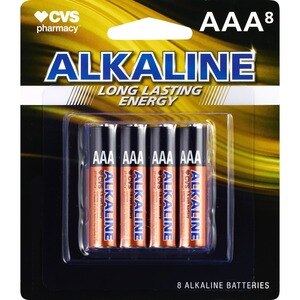 CVS Alkaline Batteries AAA, 8CT
Replaces all 'AAA' size batteries. 1.5 volt battery. CVS alkaline batteries can last up to 2 times longer than regular carbon zinc batteries. Guaranteed Long Life - Even after 7 years in storage, battery retains up to 80% of power. Date Coded Package - So you know your batteries are fresh.
May explode or leak, and cause burn injury, if recharged, disposed of in fire, mixed with a different battery type, inserted backwards or disassembled. Replace all used batteries at the same time. Do not carry batteries loose in your pocket or purse. Keep away from children. If swallowed promptly call doctor.