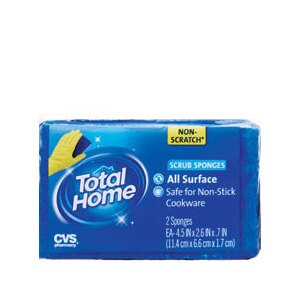 Total Home by CVS All Surface Scrub Sponges
For scouring without scratching. Resists bacterial odors! 4-1/2 x 2-3/8 x 5/8 in. each. Blue nylon pad is great for gentle scrubbing of coated cookware, china, glassware, plastic, etc. Cellulose sponge cushions hand, washes and wipes clean. Not recommended for highly polished surfaces. Made in USA.
Rinse thoroughly before and after each use especially when used with cleaners containing chlorine. For best wear, do not use with full strength bleach. Squeeze dry instead of wringing. Sanitize by boiling or place damp sponge in microwave for one minute. Clean and freshen in dishwasher. Not for aquarium use. Test an inconspicuous area first to determine if scratching occurs.