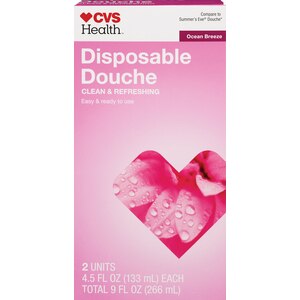 CVS Disposable Douche Ocean Breeze
Clean & refreshing. Complete & ready-to-use. CVS/pharmacy Disposable Douche has gentle ingredients and is delicately scented to give you that confident, clean and fresh feeling. Our unique bellowed neck and comfortable nozzle make insertion and dispensing effortless and pleasant. Pre-mixed, pre-measured and ready-to-use. CVS pharmacist recommended. When to Douche: After your menstrual period; after using contraceptive jellies and creams (check contraceptive package first); to clear out vaginal secretions. Compare to Summer's Eve Douche.
Product Type:

Douche

Quantity:

6-10 OZ

Fragrance:

Scented
Purified Water, Octoxynol-9, Citric Acid, Sodium Benzoate, Disodium EDTA, and Fragrance.
Hold bottle by neck and twist tab to open bottle. Hold upright and screw on nozzle. Gently insert nozzle into your vagina, no more than 3 inches, and slowly squeeze bottle. do not close the vaginal opening; douching solution should flow freely out of vagina. Use while sitting on the toilet, in the tub, or while standing in the shower.
Do not douche to prevent pregnancy; if you have symptoms of pelvic inflammatory disease (PID) or a sexually transmitted disease (STD). (See descriptions under other information.); to self-treat or prevent a STD or PID; after exposure to a STD; more than twice weekly or during pregnancy. Stop using this product if douching results in excessive dryness or irritation. Other Information: An association has been reported between douching and pelvic inflammatory disease (PID), ectopic pregnancy, and infertility. It is not currently known whether douching is causally related to these conditions, but women should be aware of this association. Douching should not be used for self-treatment if you have symptoms of PID or STD. Symptoms of pelvic inflammatory disease (PID) include lower abdominal pain, fever, chills, nausea, vomiting, and/or a pus-like yellow cervical discharge. Symptoms of sexually transmitted diseases (STD) include vaginal discharge of an unusual amount, color, or odor; painful and/or frequent urination; and genital sores or ulcers. If you have symptoms of PID or a STD, do not use any douche product and see a doctor right away.