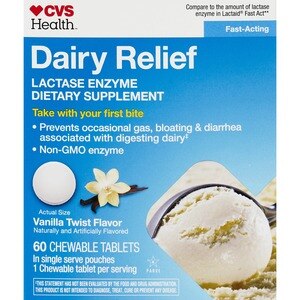 CVS Fast Acting Dairy Relief Chewable Tablets Vanilla Twist Flavor
Lactase Enzyme Supplement. For the Prevention of: Bloating; Diarrhea; Gas - associated with digesting dairy. In Single Serve Pouches: 1 chewable tablet per serving. CVS pharmacist recommended. Compare to the lactase enzyme in Lactaid Fast Act (This product is not manufactured or distributed by McNeil Nutritionals, LLC, the distributor of Lactaid Fast Act.). Dairy Relief fast action offers preventive relief from diarrhea, gas and bloating that many people with lactose intolerance experience after eating foods containing dairy. How does Fast Acting Dairy Relief work? Dairy Relief fast acting helps prevent symptoms of lactose intolerance and makes dairy foods easier to digest by breaking down lactose (milk sugar). This product is a dietary supplement containing a natural lactase enzyme, and is not a drug. Works by a natural process and may be used by everyone ages 4 years and older. (This statement has not been evaluated by the Food and Drug Administration. This product is not intended to diagnose, treat, cure or prevent any disease.) CVS quality guarantee.
Ship & Save:

Ship & Save Eligible
Other Ingredients: Sorbitol, Polyalditol, Microcrystalline Cellulose, Crospovidone, Mannitol, Dicalcium Phosphate, Magnesium Stearate, Sodium Citrate, Flavor, Sucralose.
Nutrition Facts
Serving Size: 1tablet
Servings Per Container: 60
Variation:
| Nutrient | Amount per Serving | % Daily Value |
| --- | --- | --- |
| Sodium | 5mg | -1 % |
| Total Carbohydrate | -1g | -1 % |
| Kosher | | |
| Flavor | | |
| Lactase Enzyme 9000 FCC Lactase Units | 9000units | |
How do you use Fast Acting Dairy Relief supplement? Chew one tablet with your first bite of dairy foods. You may adjust the dose to two tablets at one time if necessary. If you continue to eat dairy foods after 30-45 minutes, taking an additional tablet is recommended. How often can you use Fast Acting Dairy Relief supplement? Dairy Relief fast acting may be used every time you eat foods containing dairy. It can be used every day with every meal or dairy food. Before Using: Read all package directions. Store at room temperature (below 77 degrees F), but do not refrigerate. Keep away from heat.
Consult your physician if you experience any symptoms which are unusual or seem unrelated to the condition for which you took this product. Keep out of the reach of children. Do not use if single-serve packets are torn or open.