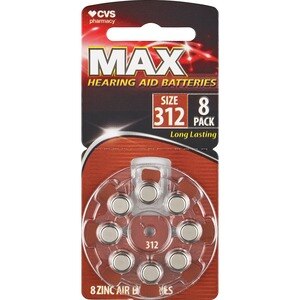 CVS Hearing Aid Batteries Size 312
Mercury free. Replaces Zinc Air: 312HP, AC312E, AC312, L312ZA, 312A, 312AE, R312ZA, B374PA, ME7Z. 1.4 volt bty. Made in USA.
Remove tab on battery prior to use.
Do not recharge or dispose of batteries in fire. Do not carry batteries loose in your pocket or purse. Keep batteries away from children. If swallowed, consult a physician at once. For information on treatment, telephone (202) 625-3333 collect.