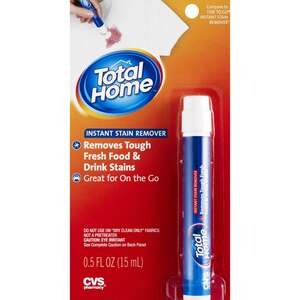 Total Home by CVS Instant Stain Remover On The Go
Removes stains. Works great on tea, soda, wine, coffee, blood & more. For best results treat stains while they are fresh.
1. Carefully blot stain to remove residue & liquid. 2. Place CVS/pharmacy Stain Remover Stick onto the stain & press down activating soft blot applicator tip. Solution will start flowing. Continue to blot stain until fabric is well saturated with CVS/pharmacy Instant Stain Remover Stick Solution. Do not saturate skin. 3. Some stains will fade within 5 minutes of treating. For stubborn stains gently rub soft blot applicator across the entire stain. Repeat if necessary. Wipe soft blot applicator tip clean after use to remove residue. Cleaning the tip after use will prolong the life of the stain stick. No stain remover gets out all types of stains. CVS/pharmacy Instant Stain Remover Stick will not work well on greasy food stains. Safe on most colorfast, machine washable & dry cleanable fabrics. Some fabrics may be susceptible to color change. Test on hidden area prior to use. Do not use on silk, velvet, wool, leather, suede.
Keep out of reach of children and pets. May produce eye irritation. If eye contact occurs flush eye with cool, running water for 15 minutes. If irritation persists, seek the care of a physician. Product may cause skin irritation, and/or the appearance of a white residue on those with dry, sensitive skin. This white residue will disappear in a short period of time, if residue or dryness persists, seek the care of physician.