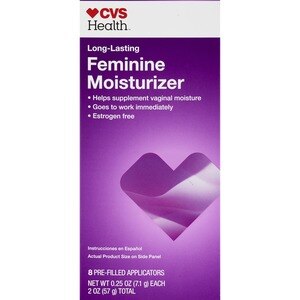 CVS Health Long-Lasting Feminine Moisturizer, 8CT
Helps supplement vaginal moisture. Gentle, immediate comfort. Estrogen free. CVS/pharmacy Long-Lasting Feminine Moisturizer helps supplement and replenish vaginal moisture to help alleviate discomfort from vaginal dryness, a common condition experienced by women at different times throughout their lives. Compatible with natural rubber latex, polyurethane and polyisoprene condoms. Please recycle. CVS quality. www.cvs.com.
8 Pre-Filled Applicators
NET WT 0.24 OZ (6.7g) Each
1.92 (53.6g) Total
Purified Water, Glycerin, Mineral Oil, Polycarbophil, Carbomer Homopolymer Type B, Hydrogenated Palm Oil Glyceride, Sorbic Acid, Sodium Hydroxide.
For Use: Remove tip and dispense by squeezing applicator tube. Apply inside the vagina as needed for symptoms associated with vaginal dryness. Repeat applications as needed. Can also be used to ease insertion of tampons. See complete instructions inside. Store at room temperature.
Does not contain spermicide and is not a contraceptive. Keep out of the reach of children. If vaginal irritation occurs, discontinue use. If symptoms persist, contact your physician. If pregnant or breast-feeding, consult your health care provider before use. Keep out of eyes and ears. Important: If an applicator is unwrapped or the wrapper printed with long-lasting vaginal moisturizer is torn, do not use. Return entire contents to place of purchase.