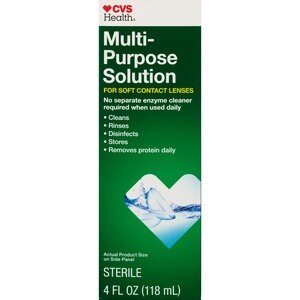 CVS Health Multi-Purpose Solution for Soft Contact Lenses, 4 OZ
SAME QUALITY
NEW LOOK

NO RUB

FOR SOFT CONTACT LENSES

No separate enzyme cleaner required when used daily
Cleans
Rinses
Disinfects
Stores
Removes protein daily
STERILE

CVS PHARMACIST RECOMMENDED

It is proven safe and effective for soft contact lenses.

CVS/pharmacy Multi-Purpose Solution contains hydroxyalkyl phosphonate, polyoxyethylene, polyoxypropylene block copolymer with ethylene diamine, and polyaminopropyl biguanide 0.0001% to create a revolutionary soft lens care product that keeps lenses clean and comfortable by removing protein deposits every day without the need to rub.

See inside of carton for complete cleaning & disinfection directions.

CVS/pharmacy Multi-Purpose Solution cleans, rinses, disinfects and removes protein daily. It is proven safe and effective for soft contact lenses.

CVS Quality
MONEY BACK GUARANTEE

Distributed by:
CVS Pharmacy, Inc.
One CVS Drive
Woonsocket, RI 02895
2009 CVS/pharmacy
www.cvs.com   1-800-shop-CVS
This item is FSA (Flexible Spending Account) eligible.
Product Type:

Lens Solution

Formulation:

Liquid

Quantity:

0-5 OZ

Ship & Save:

Ship & Save Eligible
Ingredients: Sterile, Isotonic Solution, Hydroxyalkyl Phosphonate , Boric Acid, Edetate Disodium, Polyoxyethylene Polyoxypropylene Block Copolymer With Ethylene Diamine, Sodium Borate, Sodium Chloride, Preserved With Polyaminopropyl Biguanide 0.0001%
DIRECTIONS: To clean, disinfect and remove protein daily, complete the following steps:

STEP 1: Thoroughly rinse each side of the lens (5 seconds) with CVS/pharmacy Multi-Purpose Solution.

STEP 2: Place cleaned contact lens in the lens case and fill with fresh CVS/pharmacy Multi-Purpose Solution. Soak at least four (4) hours.

Always follow your eye care professional's instructions. Based upon your individual tear chemistry and lens-wearing schedule, your eye care practitioner may recommend additional products or procedures such as placing 3 drops of this solution on each lens surface and rubbing for 20 seconds before completing Step 1.

STORAGE: Store your lenses in the unopened lens case until ready to wear, up to a maximum of 30 days.
WARNINGS:
NOT FOR USE WITH HEAT DISINFECTION.
IF YOU ARE ALLERGIC TO ANY OF THE INGREDIENTS IN THIS PRODUCT, DO NOT USE.
SEE INSIDE OF CARTON FOR COMPLETE INSTRUCTIONS AND IMPORTANT SAFETY INFORMATION.
PRECAUTIONS:
Never re-use this solution.
Keep the bottle tightly closed when not in use.
Store solution at room temperature.
Use before expiration date marked on the carton and bottle.
Keep out of reach of children.
DO NOT USE IF IMPRINTED NECKBAND ON BOTTLE IS BROKEN OR MISSING

Daily use of CVS/pharmacy Multi-Purpose Solution eliminates the need for a separate enzymatic cleaner or daily cleaner for many lens wearers - consult your eye care practitioner.