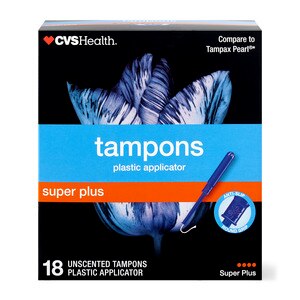 CVS Tampons Super Plus Absorbency Unscented
Durable wrapper, Plastic applicator, Rounded tip for comfortable insertion. Easy- to- hold grip. Tampon expands to fit your individual form.
Product Type:

Tampons

Quantity:

11-20 CT

Fragrance:

Unscented

Absorbency:

Super Plus

Ship & Save:

Ship & Save Eligible
Rayon and/ or Cotton Fiber Blend, Polypropylene overwrap and Cotton String,
Directions for use enclosed. Tampons Absorbency Range: Tampons are available in four absorbency ranges. All tampon manufactures are required to use the same absorbency ranges based on standard laboratory tests. Use this chart to compare the absorbency of these tampons to other brands. The risk of getting Toxic Shock Syndrome(TSS) increases with higher absorbency. You can reduce the risk of TSS by using the minimum absorbency that meets your needs. Absorbency: Light less than 6 grams, Regular 6 - 9 grams, Super 9 - 12 grams, Super Plus, 12 - 15 grams.
Attention: Tampons are associated with toxic shock syndrome(TSS). TSS is a rare but serious disease that may cause death. Read and save the enclosed information.