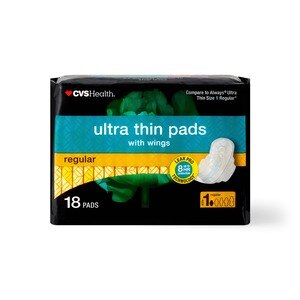 CVS Ultra Thin Pads Regular With Wings
30 x 36 Disposable Pad. More absorbent. Durable even when wet. Strong for overnight use. Bonded construction makes pad durable, even when wet. Waterproof Moisture Barrier: Keeps bed and other surfaces dry. Absorbent Padding: Offers consistent absorbency for greater protection.
Lift flap of pouch and remove pad. Keep pouch for disposal. Remove peel strip from pad and press into panties. Peel paper tabs from wings. Wrap wings around sides and attach by pressing to underside of panties. To Dispose: Detach wings from panties and remove pad. Roll or fold pad and place into pouch. Dispose in wastebasket. Do Not Flush.
Important: Keep plastic bags away from children.