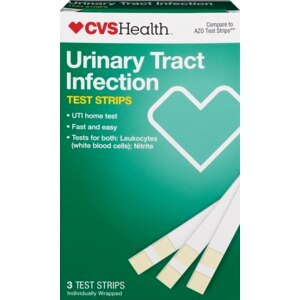 CVS Urinary Tract Infection Test Strips
Fast & easy UTI test. Results in 2 minutes. Compare to Azo Test Strips (This product is not manufactured or distributed by Amerifit, Inc. or Amerifit Brands, Inc., owners of the registered trademark AZO Test Strips). Individually wrapped. Our UTI Test Strips can help to screen if you have a urinary tract infection. This information will allow you to take an active role with your doctor in the management of your health. Our UTI Test Strips test for leukocytes (white blood cells) and nitrite in urine to be more reliable. Use at the first sign of a UTI: Urinary pain, burning, urgency or frequency. For in vitro (external) diagnostic use. Made in the USA.
This item is FSA (Flexible Spending Account) eligible.
Ship & Save:

Ship & Save Eligible
Easy-to-Use: Simply wet one test strip by holding it in your urine stream for 1-2 seconds. Read result at 1 minute, for nitrite and at 2 minutes for leukocytes. Match the color of the test strip pads to the color blocks on the foil pouch. Read insert inside for complete instructions. Store at room temperature 59-86 degrees F out of direct sunlight. Do not refrigerate. Please recycle.