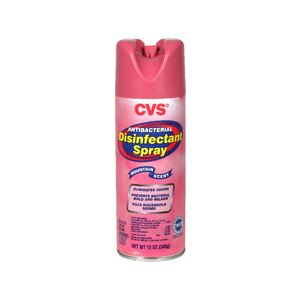 CVS - Disinfectant Spray, Antibacterial, Mountain Scent
Eliminates odors. Prevents bacteria, mold and mildew. Kills household germs. No CFCs. Prevents mold, mildew, and bacteria on environmental surfaces in your home and in public places. Disinfects and deodorizes surfaces through effective bacterial and fungicidal activity. Sprayed on Surfaces: Deodorizes by disinfecting. Germicidal activity kills most odor-producing organisms. Controls unpleasant odors. Pleasantly scented for use in hospital rooms, sick rooms, doctor's examining rooms, kitchens, nursery and bathrooms. Kills Staphylococcus aureus (Staph), Streptococcus hemolyticus (Strep), Pseudomonas aeruginosa, Mycobacterium bovis (BCG), Salmonella Choleraesuis and Trichophyton mentagrophytes (athlete's foot fungus) on hard, non-porous environmental surfaces.
Active Ingredients: Alkyl (60% C14, 30% C16, 5% C12, 5% C18) Dimethyl Benzyl Ammonium Chlorides (0.05%), Alkyl (68% C12, 32% C14) Dimethyl Ethyl Benzyl Ammonium Chlorides (0.05%), Ethyl Alcohol (37.00%). Other Ingredients (62.90%). Contains Sodium Nitrate.
It is a violation of federal law to use this product in a manner inconsistent with its labeling. Shake well before using. Prior to application, thoroughly clean all surfaces to be treated to remove gross filth or heavy soil. To Disinfect: Hold can upright and spray from a distance of 6 to 8 inches until area for treatment is thoroughly moistened and allow to dry for 10 minutes before wiping or allow to air dry. For Control of Mold and Mildew on Hard, Non-Porous Environmental Surfaces: Spray surface until thoroughly moistened. Allow to air dry. Repeat application in 7 days. For Control of Fungus in Areas Such as Bathrooms, Locker Rooms, Floors, Benches, Shower Stalls or Other Non-Porous Environmental Surfaces commonly Contacted by Bare Feet: Spray surface until thoroughly moistened. Allow to air dry. For Use on: Walls, floors, bedframes, bedpans, urinals, fixtures, containers, toilet seats, diaper pails, telephones, trash cans and sickrooms. Due to the possibility of electric shock when used on telephones, avoid excessive spraying of telephone. This product is not to be used as a terminal sterilant/high level disinfectant on any surface or instrument that (1) is introduced directly into the human body, either into or in contact with the bloodstream or normally sterile areas of the body, or (2) contacts intact mucous membranes but which does not ordinarily penetrate the blood barrier or otherwise enter normally sterile areas of the body. This product may be used to preclean or decontaminate critical or semi-critical medical devices prior to sterilization or high level disinfection. Storage and Disposal: Do not contaminate water, food, or feed by storage and disposal. Pesticide Storage: Store upright in a cool dry place away from heat or open flame. Pesticide Disposal: Waste resulting from the use of this product may be disposed of on site or at an approved waste disposal facility. Container Disposal: This container may be recycled in the few but growing number of communities where (steel) aerosol can recycling is available. Before offering for recycling, empty the can by using the product according to the label. (Do not puncture!) If recycling is not available, wrap the container and discard in the trash.
Keep out of reach of children. Hazard to humans and domestic animals. Causes substantial, but temporary eye injury. Do not get in eyes or on clothing. Wear safety glasses or face shield. Wash hands before eating, drinking, using tobacco, or using the toilet. Remove contaminated clothing and wash clothing before reuse. First Aid: If in Eyes: Hold eye open and rinse slowly and gently with water for 15-20 minutes. remove contact lenses, if present, after first 5 minutes, then continue rinsing. Call a Poison Control Center or doctor for treatment advice. If Swallowed: Call a Poison Control Center or doctor immediately for treatment advice. Have person sip glass of water if able to swallow. Do not induce vomiting unless told to do so by a Poison Control Center or doctor. Do not give anything by mouth to an unconscious person. Have product container label with you when calling a Poison Control Center or doctor or going for treatment. Note to Physician: Probable mucosal damage may contraindicate the use of gastric lavage. Physical or Chemical Hazards: Contents under pressure. Do not use or store near heat or open flame. Do not puncture or incinerate container. Exposure to temperatures above 130 degrees F may cause bursting. Do not spray on polished wood or furniture.