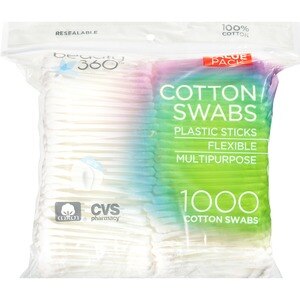 CVS 100% Cotton Value Pack Cotton Swabs
100% cotton. Soft cotton at the tip. Double tipped. Plastic sticks. Resealable - Press to seal. Luxuriously Soft: Soft tips are made from 100% pure natural cotton that is soft and gentle on skin. Precision Application and Removal: Effortlessly applies and beautifully blends cosmetics such as eye shadow and lip gloss. Easily removes eye makeup and corrects mascara smudges. Great for nail polish touch-ups. CVS quality guarantee. www.cvs.com. LDPE: Low density polyethylene. LDPE goes into plastic bags, grocery sacks, dry cleaning bags, and flexible film packaging, as well as some bottles. Made in the USA.
Product Type:

Swabs
To clean ears, stroke swab gently around the outer surface of the ear.
Do not enter ear canal. Use only as directed. Entering the ear canal could cause injury. Keep out of reach of children.