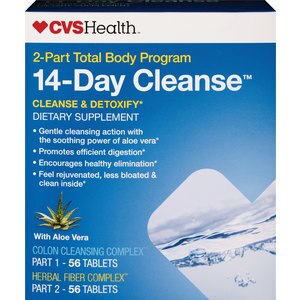 Dietary Supplement. 2-part total body program - Cleanse & Detoxify. Colon Cleansing Complex: Part 1 - 56 tablets. Herbal Fiber Complex: Part 2 - 56 tablets. CVS pharmacist recommended. Promotes efficient digestion. Encourages healthy elimination. Feel rejuvenated, less bloated & clean inside. Gentle cleansing action with the soothing power of aloe vera. Part 1: Colon Cleansing Complex: Flushing the body's colon is the first step to a cleaner bowel. CVS/pharmacy Colon Cleansing Complex encourages elimination by hydrating the stool, leading to a cleaner, faster working and more efficient digestive tract. This blend relaxes and soothes the bowel during cleansing with ginger and turmeric, while yellow dock, dandelion root and burdock work with the body's own internal systems to cleanse and detoxify. Part 2: Herbal Fiber Complex: CVS/pharmacy Herbal Fiber Complex is specially formulated to refresh and reawaken the bowel during cleansing, while further eliminating toxins from the body. Soluble and insoluble fibers bind pollutants and biological by-products to remove them from the bowel. Soothing and calming herbs promote relaxation of the digestive system to further enhance the cleansing process. Imagine a cleaner, lighter, more efficient digestive tract in only 14 days. Modern life takes quite a toll on the human body. Much of what is consumed in a modern diet contains ingredients that have been treated with pesticides, chemicals and synthetic compounds. CVS/pharmacy 14-Day Cleanse helps you rid your body of the effects of a poor diet and slow elimination. Periodic cleansing supports a healthy digestive tract which can be beneficial for the overall body. This two-part formula accelerates cleansing of the intestine by increasing bowel movement size and frequency, while calming and soothing the digestive tract. (These statements have not been evaluated by the Food and Drug Administration. This product is not intended to diagnose, treat, cure or prevent any disease.)
Colon Cleansing Complex: Dandelion (Taraxacum Officinale) Powder (Root), Ginger Powder (Root), Turmeric Powder (Root), Burdock (Arctium Lappa) Powder (Root), Fennel Powder (Seed), Yellow Dock Powder (Root), Aloe Vera Juice Powder (Leaf), Marshmallow Powder (Root). Other Ingredients: Microcrystalline Cellulose, Stearic Acid, Croscarmellose Sodium, Magnesium Stearate, Silicon Dioxide. Herbal Fiber Complex: Flax Seed Powder, Psyllium Powder (Seed Husk), Oat Bran Powder, Rice Bran Powder, Licorice (Glycyrrhiza Glabra) Powder (Root), Slippery Elm Powder (Bark), Alfalfa Powder (Herb), Apple Pectin Powder (Fruit), Peppermint Powder (Leaf), Acacia Gum. Other Ingredients: Calcium Carbonate, Microcrystalline Cellulose, Stearic Acid, Silicon Dioxide, Acacia Gum, Starch, Dicalcium Phosphate Dihydrate, Magnesium Stearate and Croscarmellose Sodium.
Take two tablets CVS/pharmacy Colon Cleansing Complex and two tablets CVS/pharmacy Herbal Fiber Complex in the morning and evening with meals and a full glass of water. Drink 8 glasses of water a day. Do not exceed 4 tablets of each complex per day.
Do not use if safety seal is broken. This product contains magnesium hydroxide. Consult a doctor and discontinue use if you experience a sudden change in bowel habits that persists for two or more weeks or stomach pain, nausea, vomiting or rectal bleeding. Check with your doctor before using the product if you are using medication, have any kidney or medical conditions, or have a magnesium-restricted diet. Do not use if you are pregnant or nursing. Do not exceed recommended daily intake. Not intended for long term use. Not intended for use by persons under 18. Keep out of reach of children. Store in a cool, dry place.