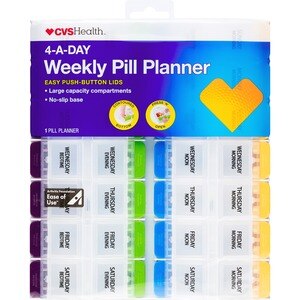 CVS 4-A-Day Weekly Pill Planner with Easy Press N' Open Buttons
Easy press n open buttons. Large capacity compartments; no-slip base. Contoured bottom. Press n open. CVS pharmacist recommended. Ease-of-use commendation by Arthritis Foundation. Made in China.
This item is FSA (Flexible Spending Account) eligible.
Set pill box onto a flat surface or hold in hand. Using index finger or thumb, press down onto colored tab. Close compartment lid when finished. Care: Wash prior to first use. After first use, wash with mild soapy water. Rinse. Dry before storing.
As with all medication storage devices, keep out of reach of children.