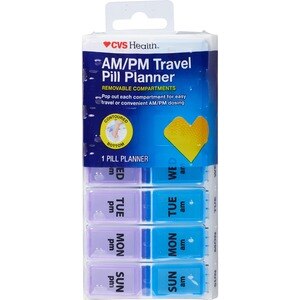 CVS AM/PM Travel Pill Planner
Removable compartments. Pop out each compartment for easy travel or convenient AM/PM dosing. Contoured bottom. CVS pharmacist recommended. Made in China.
This item is FSA (Flexible Spending Account) eligible.
Hold the tray in one hand. Use the other hand to push out the desired pill reminder by using the holes provided in the bottom of the tray. Insert the top (PM end) of the pill reminders into the tray first then press down on the main body of the pill reminder until you hear the snap. Care: Wash prior to first use. After first use, wash with mild soapy water. Rinse. Dry before storing.
As with all medication storage devices, keep out of reach of children.