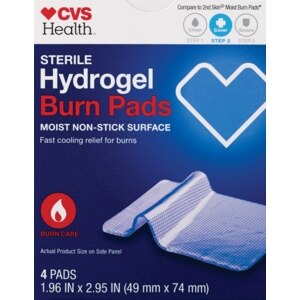 CVS Advanced Burn Relief Moist Hydrogel Pads
1.96 x 2.95 inch. Cooling, soothing relief. 3X absorbency vs. other hydrogels. Absorbs wound drainage to help prevent infection. Instant cooling relief for burns. Sterile. Latex free. CVS/pharmacy Advanced Relief Burn Relief Moist Hydrogel Pads provide cooling relief while absorbing wound drainage which helps prevent infection. This hydrating dressing does not adhere to the wound area or liquefy into the wound. Provides cooling, soothing relief. Breathable, hydrating material allows wound to heal without adhering to it. This Burn Relief Hydrogel Pad is a primary dressing and should be secured in place over the wound with rolled gauze and/or tape. FSA eligible. Made in UK.
See box insert for complete instructions and use. This product should be used under the advice of a licensed health care provider for the management of wounds with dry to light drainage. Store at room temperature.
Sterile unless wrapper is opened or damaged. For any changes in wound condition or infection, discontinue use and seek immediate professional medical attention. Single use only. For external use only. Do not use on moderate to heavy draining wounds. Do not use on serious or chronic burns or wounds. Not to be used by persons with a known sensitivity to hydrogel or similar polymer materials.