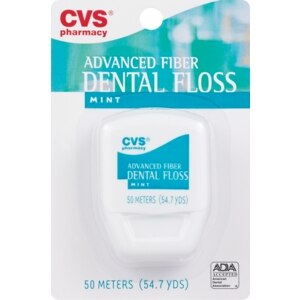 CVS Advanced Fiber Dental Floss Mint
CVS Advanced Fiber Dental Floss has a low coefficient of friction...it slides easily between teeth! This property combined with our unique construction of microfilaments enables CVS Advanced Fiber Dental Floss to slip easily between the teeth without tangling or breaking. Once between the teeth, the microfilaments fan out to form a broad cleaning area for scraping plaque off tooth surfaces, above and below the gum line. (Other advanced technology dental flosses are made from monofilament or single strand construction and cannot fan out in this fashion so they are limited in their cleaning surface area.CVS Advanced Fiber Dental Floss spreads to cover a large surface area of the tooth using microfilaments! Other advanced technology dental flosses only cover a narrow strip of tooth surface with a single strand of floss.Dental experts agree that daily flossing can help prevent tooth decay and early gum disease.CVS Dental Floss is Accepted as an effective cleansing device which reduces gingivitis as part of a program for good oral hygiene to supplement the regular professional care required for oral health.Council on Scientific Affairs, American Dental Association.
Wrap floss around your middle fingers. Gently slide the floss between your teeth until it reaches the gum line. Then, curving around each tooth with light pressure to allow the floss to fan out and cover as much surface as possible, gently scrape the sides of each tooth.