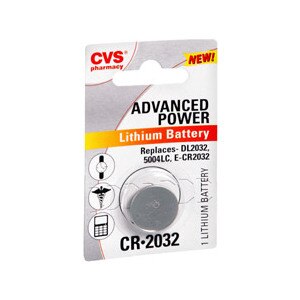 CVS Advanced Power Lithium Battery Cr2032
Replaces - DL2032, 5004LC, E-CR2032.
1. Keep away from small children. If swallowed promptly see a doctor. 2. Battery can explode or cause burns if disassembled, charged or exposed to water, fire or high temperature. 3. Keep in original package until ready to use and dispose of used battery promptly. 4. Keep the cell in a dark cool and dry place. 5. Wipe the cell with dry cloth and set properly confirming ends (+,-). 6. Use finger sacks or non-metallic tweezers.