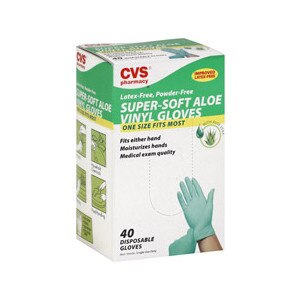 CVS Aloe Vera Latex-Free Gloves Powder Free
Latex-free, powder-free. With aloe vera. Fits either hand. Moisturizes hands. Medical exam quality. Non-sterile, single use only. First aid, household chemicals, painting, food handling. Easy on-off. Flexible. Lightweight. Fits either hand. Improved latex-free. Made in China.
Made of Polyvinyl Chloride.
Storage: Protect from freezing. Avoid excessive heat. Keep dry. Products should be shielded from direct sunlight, fluorescent lighting, x-rays, moisture and ozone. Single use only. Do not reuse gloves.