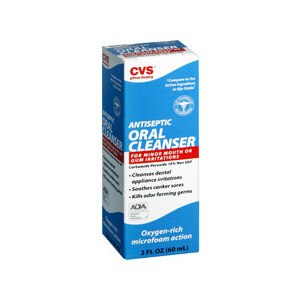 CVS Antiseptic Oral Cleanser
Local treatment and hygienic prevention of minor oral inflammation such as canker sores, denture irritation, and postdental procedure irritation.
Adults and children 2 years of age and older: Place several drops on affected area four times daily, after meals and at bedtime, or as directed by dentist or physician; expectorate after 2 to 3 minutes. OR place 10 drops on the tongue, mix with saliva, swish for several minutes, expectorate.
Severe or persistent oral inflammation, gingivitis or dental irritation may be serious. If these conditions or unexpected side effects occur, consult a dentist or physician immediately. Avoid contact with the eyes. Protect this product from heat and direct light. Keep this and all drugs out of reach of children. In case of accidental overdose, seek professional assistance or contact a Poison Control Center immediately.