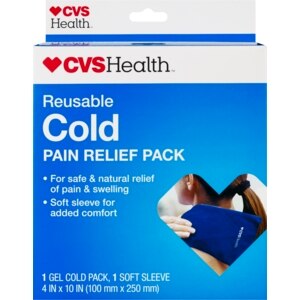 CVS Cold Pain Relief Pack Reusable
More convenient than the traditional ice bag, the reusable cold pack is effective at relieving pain and reducing swelling of common aches and injuries. Keep in the freezer to use again and again whenever you need fast pain relief. Medically recommended for: ankle, headache, knee, etc. Remains flexible and comfortable when refrigerated or frozen. Convenient and non-toxic. Includes: 1 gel cold pack, 1 protective cover. Measures 4 inches x 10 inches (100 mm x 250 mm).
See instructions inside for use.
Cold therapy should not be used by individuals with circulatory problems unless prescribed by a physician.