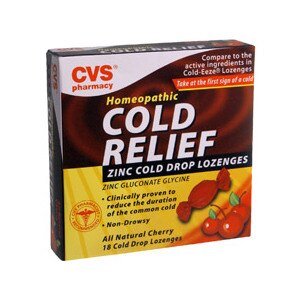 CVS Cold Relief Zinc Cold Drop Lozenges All Natural Cherry
To assist in the reduction of symptoms and duration of the common cold (cough, sore throat, stuffy nose, sneezing, post-nasal drip and/or hoarseness). Non-drowsy formula. No artificial colors or preservatives. Proven Effectiveness: CVS Pharmacy Zinc Gluconate Glycine Lozenges are exclusively manufactured for CVS under a license agreement utilizing a patented proprietary formulation. This exclusive formulation has been proven to reduce the duration and severity of the common cold in two double-blind placebo controlled studies conducted at major clinics in the USA. Both studies were published in peer reviewed medical journals and showed a reduction of 42% in the symptoms of the common cold. This exclusive formulation is developed under patents: 4,684,528, 4,758,439.
Per 4.5 g Drop: 13.3 mg of Ionic Zinc From Zincum Gluconicum 2X (104 mg Zinc Gluconate Trihydrate) Equivalent to Zincum 3X
For maximum benefit, begin treatment at first sign of a cold, preferably within 48 hours. Completely dissolve a CVS Cold Drop lozenge in mouth. Do not chew as this reduces effectiveness of the active ingredients. Repeat every 3 hours. Recommended daily dose is 6 lozenges. Continue treatment until all symptoms have ended. (SEE WARNINGS.) To avoid minor upset, do not take on an empty stomach. For maximum effect, do not eat or drink citrus fruits and juices 1 hour before and after dissolving lozenge. Otherwise drink plenty of fluids. Talk to your doctor or CVS pharmacist for more information on whether CVS Pharmacy Zinc Gluconate Glycine Lozenges are right for you or your family members.
CVS Pharmacy Zinc Gluconate Glycine Lozenges are formulated to relieve cold symptoms and may be insufficient treatment for flu. If symptoms worsen, or persist for more than 7 days, consult a physician. Keep out of reach of children. If pregnant or breast feeding, ask a health professional before use.